Laminate Flooring in Simcoe, ON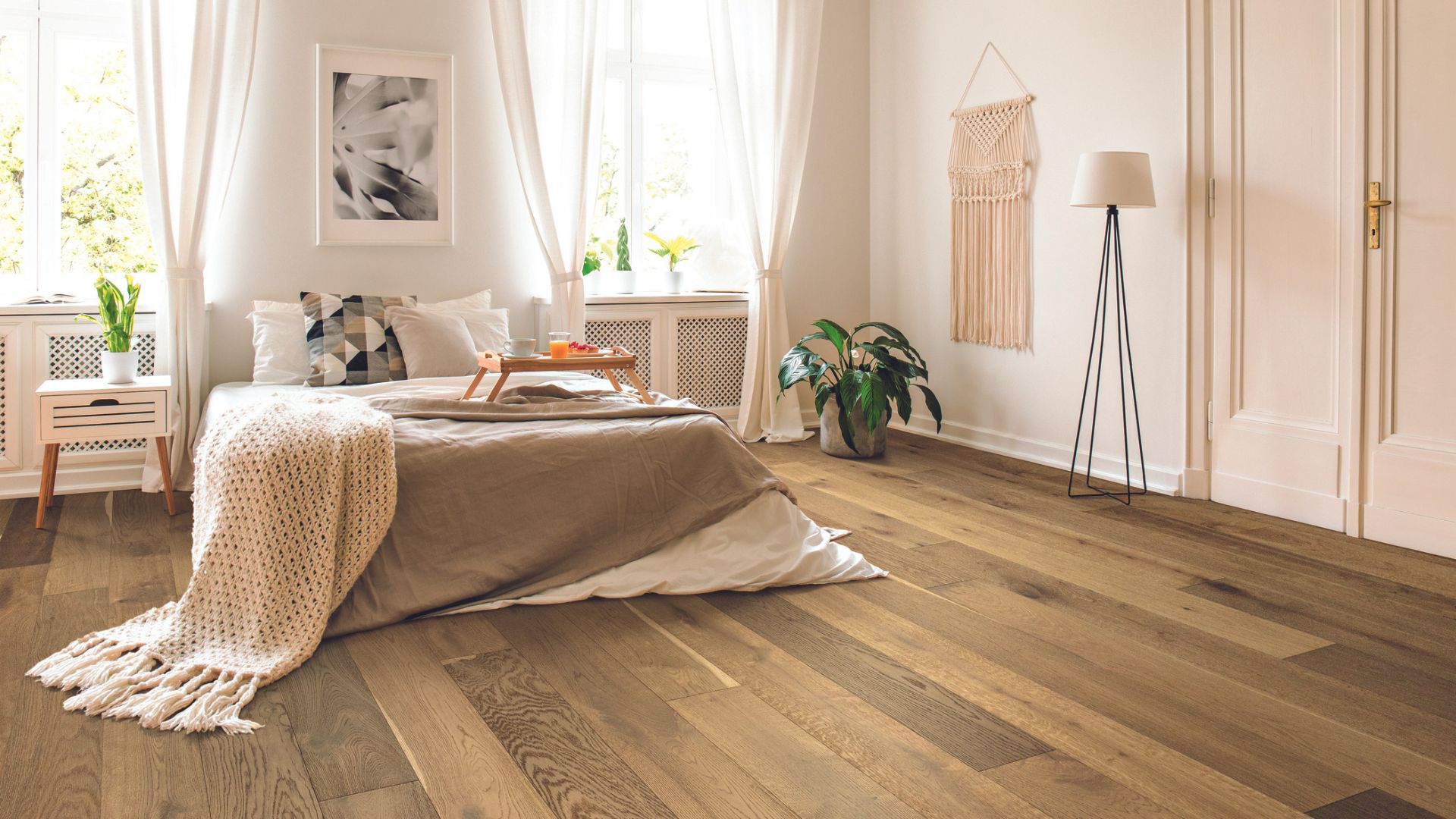 Searching for affordable laminate flooring in Simcoe, ON? Explore Flooring Canada Simcoe's exquisite laminate collection for your home or business. Opt for laminate flooring in Simcoe, ON, where budget meets beauty under the Canadian sun. Our expert team will assist you in finding the perfect laminate solution that aligns with your space and budget. Experience the authentic realism of modern laminate, as today's technology ensures a hardwood-like appearance and texture. Transform your Simcoe property with Flooring Canada Simcoe's realistic laminate flooring—unmatched value without sacrificing style.
What is Laminate Flooring?
With its innovative layering, laminate flooring captures natural wood's beauty and ensures resilience in the face of daily challenges. Experience the perfect fusion of style and durability with laminate—an ideal flooring solution for modern living. Laminate flooring is a top choice for homeowners seeking a blend of aesthetics and functionality. Dive into the details of laminate planks and their advantages:
Core & Base Layers: Sturdy fiberboard and additional materials provide stability and safeguard against moisture.
Decorative Layer: Boasting a high-definition image of genuine wood, this layer creates an ultra-realistic appearance.
Finish Layer: A durable shield that fends off scratches, dents, and everyday wear and tear.
Laminate Types
Explore our extensive laminate flooring collection, designed to enhance the beauty and functionality of your Leduc home. We offer two main categories: laminate wood and laminate tile, each with unique features.
Laminate Wood Flooring: Experience the timeless elegance of real hardwood without straining your budget or dealing with extensive maintenance. Our advanced technology faithfully replicates wood species like oak, maple, walnut, and more with authentic wood grain patterns, rich colours, and lifelike textures. This flooring is built to withstand moisture, scratches, stains, and fading, making it perfect for high-traffic areas and homes with active children and pets.
Laminate Tile Flooring: Our laminate tile options provide style, comfort, and affordability. They mimic the beauty of ceramic or stone tiles, offering a sophisticated and natural look without grout lines or the cold feel underfoot. Choose from various designs and colours, including the timeless appeal of marble, classic travertine, or sleek slate, all to match your home's unique aesthetic. Laminate tile flooring is durable and resistant to moisture and stains, ensuring a comfortable and resilient surface for daily activities. Enjoy the best of both worlds with laminate tile flooring—a practical and visually stunning choice for your living spaces.
Embrace the Versatility of Laminate Flooring
Learn about laminate's amazing benefits:
Transform Any Space: Infuse sophistication and flair into your room with laminate flooring that emulates the richness of high-end materials.
A Spectrum of Options: Whether you desire the warmth of hardwood or the organic feel of stone, our extensive selection guarantees the perfect complement to your distinctive style.
Authentic Appearance: Guests will struggle to differentiate our laminate from the real deal, thanks to its remarkably realistic aesthetic.
Effortless Upkeep: Revel in floors that retain their luster, even after enduring years of use and daily life.
Smart Investment: Opt for professional laminate flooring installation to ensure your investment remains enduring and resilient over time.
Timeless Elegance: The exquisite finishes available not only endure heavy foot traffic but continue to radiate stunning beauty throughout the years.
Discover the Latest Laminate Flooring Styles and Trends in Simcoe, ON
Stay ahead in home decor by incorporating these popular laminate flooring styles and trends in Simcoe, ON. Elevate your space with the perfect blend of fashion and functionality:
Classic Hardwood Emulation: Experience the timeless charm of hardwood without the maintenance, as laminate floors authentically replicate the look and feel of classic wood.
Modern Gray Tones: Embrace contemporary design with laminate options featuring sleek and stylish gray tones, adding a touch of sophistication to your space.
Wide Planks for a Bold Statement: Opt for wide plank laminate flooring to boldly create a sense of openness and modernity in your Simcoe home.
Natural Stone Aesthetics: Capture the allure of natural stone with laminate styles that mimic the texture and appearance of materials like marble and slate, bringing a touch of luxury to any room.
Embossed Finishes for Texture: Explore laminate flooring with embossed finishes, adding texture that enhances the visual appeal and mimics the feel of authentic hardwood.
Herringbone and Chevron Patterns: Stay on-trend with laminate flooring featuring herringbone or chevron patterns, bringing a sense of timeless elegance and visual interest to your Simcoe living spaces.
Professional Laminate Flooring Installation
At Flooring Canada Simcoe in Simcoe, ON, we prioritize your satisfaction and the longevity of your new floors. Our recommended solution is a professional installation by our skilled team.
Once you've selected your flooring, allow us to schedule a laminate installation appointment.
Our expert installers will arrive punctually, well-equipped, and prepared to provide precision and quality.
We meticulously follow the manufacturer's guidelines and adhere to industry best practices, ensuring the protection of your floors against potential damage and extending their lifespan.
Moreover, we stand behind our services with the Ultimate Confidence Guarantee.
If there are any installation issues, our professionals will promptly revisit your home for necessary corrections at no additional cost to you.


Contact us to learn more about our laminate selection and installation services. We proudly serve customers in Simcoe, ON, and the surrounding areas.