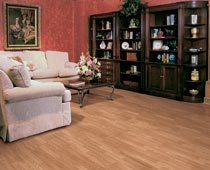 The Home Craft™ collection showcases a complete selection of readily available flooring surfaces and styles to satisfy your most basic decorating needs. This line is perfect for first-time home buyers or anyone seeking attractive, affordable flooring. Home Craft™ laminate flooring offers long-wearing performance for every room in your new home.
Shop for Home Craft™ products here.
Learn more about our Five Star Selection System, designed to guide you in choosing the right floor for your needs.
Ultimate Confidence Guarantee
We stand behind our products and services. Our guarantees protect you and your investment to ensure a confident, worry-free, and enjoyable shopping experience. Check out our Ultimate Confidence Guarantee.
Not all products available in all stores.