Captivating Luxury Vinyl Flooring in Simcoe, ON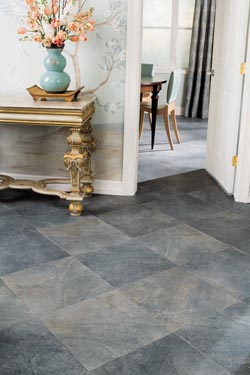 Updating the flooring in your home or business means trying to make the smartest decision not only for the look of your space, but also its functionality. There are many different flooring options available, and they all come with their own unique blend of benefits. So what makes luxury vinyl flooring in Simcoe, ON, stand out from the rest? A lot! Flooring Canada Simcoe is excited to introduce homeowners and property owners to the wonders of luxury vinyl tile. Much more advanced than the vinyl flooring of the past, these resilient floors deliver not only the attractive looks you want, but also the durability you need. The best part? This impressive package of looks and style is one of the most resilient flooring options currently on the market.
A Natural Look at a Better Price
Hardwood and natural stone are very popular flooring options, and with good reason. They transform just about any room into a space of luxury. That luxury comes with a price, however, which can keep many homeowners from achieving the aesthetic they hoped to create. With luxury vinyl flooring, these woes are a thing of the past. Available in a wide variety of colors, styles, and textures, LVT is able to perfectly mimic the appearance of hardwood and natural stone flooring while giving you the durability and price point you expect from vinyl floors. This allows you to enjoy the best of both worlds, as you are able to bring your flooring vision to life with ease. The ability to mimic more expensive flooring isn't the only benefit that comes with choosing luxury vinyl for your home. Some of the other benefits you should expect to enjoy from this type of flooring include:
Easy Upkeep & Maintenance
Variety of Designs & Styles
Resistance to Impact Damage
Resistance to Heavy Foot Traffic
Resistance to Moisture & Staining
Installing Your New Luxury Vinyl Floor
Whether you have chosen luxury vinyl plank flooring or tile flooring, our team is there to ensure that everything looks as good in your home or business as it did on our showroom floor [link to: https://www.flooringcanadasimcoe.ca/]. We do this by providing you with the very best in luxury vinyl tile installation services. Thanks to our professional installation, you know that your new floor is going to stand up to the test of time.

Contact us to learn more about the different patterns and styles available to choose from. Our luxury vinyl is perfect for clients located throughout the Simcoe, Ontario, area.