Luxury Vinyl Tile in Simcoe, ON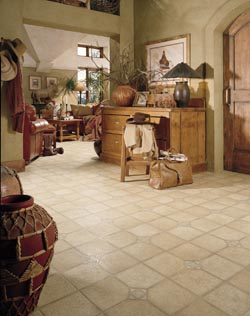 Enjoy a luxurious look in your home by coming to our flooring store for luxury vinyl tile (LVT). This flooring product is easy to maintain, and it effectively mimics other flooring products, such as hardwood, ceramic tile, and natural stone. Luxury vinyl floor tile adds real appeal to your home. At our store, we carry a wide variety of LVT and resilient flooring that caters to any design preference. In fact, you have practically limitless options when you want to give your home a stylish makeover.


Benefits of Resilient Flooring
Pets and people are hard on floors. If you have a busy family, your floors can take a beating. Fortunately, we carry resilient flooring that stays beautiful even under heavy foot traffic. It resists scratches, stains, and spills. In addition, these floors are very easy to clean. Most importantly, they come in many varieties and colors. Don't compromise durability for beauty. You can get both when you purchase resilient floors at our store. The benefits of resilient flooring include:
Available in Many Designs, Colors, & Textures
Mimics Many Flooring Types
Moisture Resistant
Easy to Clean
Does Not Need to Be Waxed
Flexible & Comfortable Underfoot
Eco-Friendly


Value-Adding Luxury Vinyl Floor Tile
Add appeal and value to your property by taking advantage of 3D printing technology. Luxury vinyl floor tile creates unmistakable and positive impressions on your family and friends. Even though these floors are not made of wood or ceramic, they look like it! Using natural colors, textures, and photographic printing technology, they can fool even your most observant guests. Allow our flooring team to help you select the perfect flooring for your home.


Stylish Luxury Plank Flooring
Do you have visions of tacky floors when you think about vinyl? Yesteryear's vinyl flooring is nothing like luxury plank flooring today. Advances in resilient floor manufacturing have changed everything, making vinyl flooring an impressive option for homeowners. Today, luxury plank flooring comes in a wide variety of shapes and styles. Like traditional LVT, they are printed to simulate other flooring types. This includes hardwood, natural stone, or designer tile.


Luxury Vinyl Tile Installation by Skilled Professionals
Save yourself the time, money, and energy by letting us install your floors. We have an excellent team of subcontractors that provide comprehensive luxury vinyl tile installation services. Don't take chances by installing your new floors on your own or using inexperienced installers. Providing dependable services from start to finish, the contractors we use ensure a floor that impresses and lasts for many years. In addition, we offer special guarantees to ensure your complete satisfaction for the life of your floor.
When you use our team for installation, they are always careful when placing the vinyl or plank the right way. We pay close attention to floor prep and always use the most reliable installation methods. Take advantage of us today by requesting a quote and scheduling an in-home consultation. Our preferred installers adhere to our strict guidelines to ensure you receive the best service.



Contact us today for resilient flooring that achieves the results you want. We proudly serve customers throughout Simcoe, Ontario, and the surrounding areas.