Renovate Your Home with Wood Look Tile in Simcoe, ON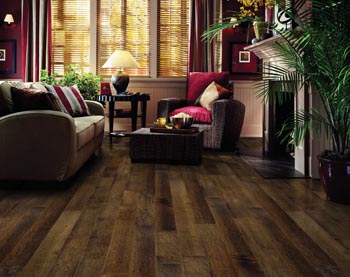 Breathe new life into your home with wood look tile in Simcoe, ON. At Flooring Canada Simcoe, we offer a number of excellent tile surfaces that are designed to look and feel like real hardwood. These surfaces let you add the elegant and timeless look of wood to any room in your home while providing the exceptional strength of ceramic or porcelain.
High Resilience
If you are looking for a flooring surface that is elegant and beautiful as well as robust and durable, then tile is the right solution for you. A wood plank porcelain tile floor holds up well to years of heavy foot traffic making it perfect for your busy household.
Tile also provides superior moisture protection. It does not expand when wet, keeping your floor from warping even in the dampest of environments. This moisture resistance allows you to add a wood look to rooms where natural hardwood typically doesn't work like kitchens, bathrooms and basements.
Furthermore, tile is a great conductor of heat. This makes wood plank ceramic tile the perfect solution to install with in-floor heating so that you can keep your feet warm all winter long.
Lots of Colours to Choose from
When you choose a new floor for your home, you want to ensure that it will look great with your current décor or be the basis for a new design aesthetic. At our store, we understand this and are proud to offer a variety of options for you to choose. We carry porcelain and ceramic wood tiles in countless colours and patterns so that you can find the solution that is right for your home.
If you do not know what design aesthetic would work with your home, then our design team is here to help. Our flooring experts understand the intricacies of home design and will help you find the surface that will meet your project goals.
Installing your New Floor
At Flooring Canada Simcoe, we offer a comprehensive installation service to take care of everything needed to correctly install your new floor. Our skilled team has the experience and equipment required to cut, layout and finish your new ceramic or porcelain wood tile floor. With the help of our team, your new surface is installed quickly so that you can begin enjoying your updated aesthetic right away.

Contact us when you are looking for wood look ceramic or porcelain tiles to upgrade the floors in your home. We proudly serve Simcoe, ON, and the surrounding areas.